THE BOREAS BLOG
Catch up on the latest company news, announcements, and tips, and check out our stories from travel shows.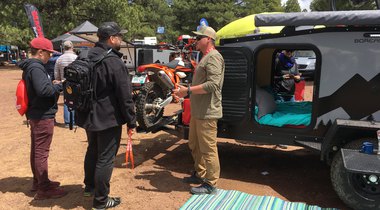 See you in 2020!
Read More
1Up USA Bike Racks on the Boreas
2-wheel adventures for the whole family!
Read More
How To Work Remotely And Travel
Boreas makes some of the most durable and versatile campers on the market. Learn how you can turn your Boreas into an office and work from wherever in the world you may be.
Read More
10 Easy Camping Meals Perfect For Your Next Trip
Here we share 10 of our favorite camping meals to help you refuel on your next trip to the great outdoors.
Read More
Use mud season to better appreciate the things you love about the outdoors
Read More
$500 Rebate Extended to May 31 for COVID Front Line Workers
Thank you to the heroes of the pandemic
Read More
Best in the industry coverage for best in the industry trailers
Read More
How to get off the grid post-quarantine
Be ready to go!
Read More
$500 rebate on XT and MXT models
Take advantage of this amazing deal and be off-road ready!
Read More